Find now how to cancel the BSNL Amazon prime free membership to avoid auto renewal after completion of first year, what are different ways to deactivate and also check where to visit to unsubscribe and any cancellation charges has to be paid for first year free membership?
As we all know about the activation process of Amazon prime free membership offered by Bharat Sanchar Nigam Limited, but many of us don't know about the renewal process, so here we just deliberate the different ways of deactivation.
Ways to cancel BSNL Amazon Prime Renewal
1. The Amazon Prime offer is applicable only for the postpaid broadband customers who subscribes with 745 and above plan, If you subscribes with Amazon Prime, then just downgrade the BSNL billing plan to below 745 monthly rent in online or offline, then it automatically revokes the prime membership auto renewal with immediate effect.
2. Call BSNL Customer Care and deactivate BSNL's Amazon Prime free membership offer to avoid auto renewal.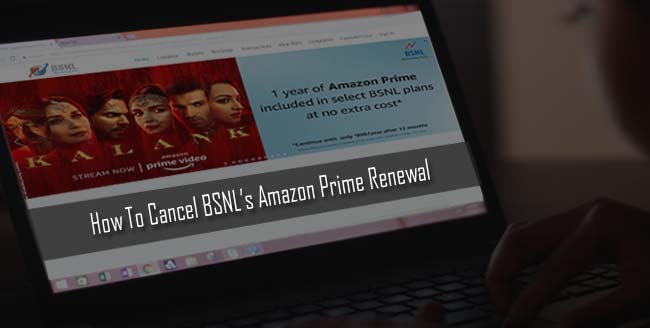 Deactivate BSNL Amazon Prime Online
All BSNL postpaid customers (Landline / Mobile) who are eligible and activated Amazon free membership for one year on your account, can deactivate through unsubscription page in online with the below process to avoid auto renewal.
Open your browser and login to https://portal3.bsnl.in/myportal/AmazonOptOut.jsp
Click on Landline or Mobile (As per your opted service)
Provide your Landline number with STD code (If Landline) or submit mobile number if selected Mobile
Immediately your registered mobile number will be shown and One Time Password will be sent to your mobile number
Enter Captcha Code and OTP in the fields
Click on Submit and Confirm in the second page, then immediately, you unsubscription/ deactivation will comes into effective.
How the charges collected for BSNL's Amazon prime renewal?

If a subscribed customer of BSNL's Amazon Prime free account can be charged Rs. 999 in the next coming telephone bill towards renewal amount for prime membership for next one year, and the same will be notified through SMS.

Will any extra facilities were added on paid membership of BSNL Amazon prime on renewal?

All the existing facilities will continue and if any new features added by Amazon will automatically for all.

Is there any charges for deactivation before renewal?

No, there is no cancellation charges and you are free for activation and deactivation at any time in the said portal.

Can we cancel the subscription after issuing the bill with renewal charges?

Before renewal only, you must have to unsubscribe from BSNL's Amazon prime free membership, if not done, but deactivates the same even after one day after renewal, then you have to pay renewal charges which includes in the bill.