On the occasion of Holi festival, the competent authority of BSNL introduced a New Special Annual Plan BSNL 797 recharge with 300days validity. This is one of the best plan with longer validity which will avoid frequent recharges, which is hectic task in the busy world.
The carrier provides an ultimate solution for the customers who wants longer validity BSNL Recharge Plan under prepaid services. This new plan voucher may also provides freebies with unlimited calls / data for stipulated time.
The existing customers can also have an option to migrate to this BSNL 797 plan at anytime. Where the existing customers also can get the freebies upon recharge through BSNL online recharge or offline modes. Lets have a look at detailed tariff as mentioned below.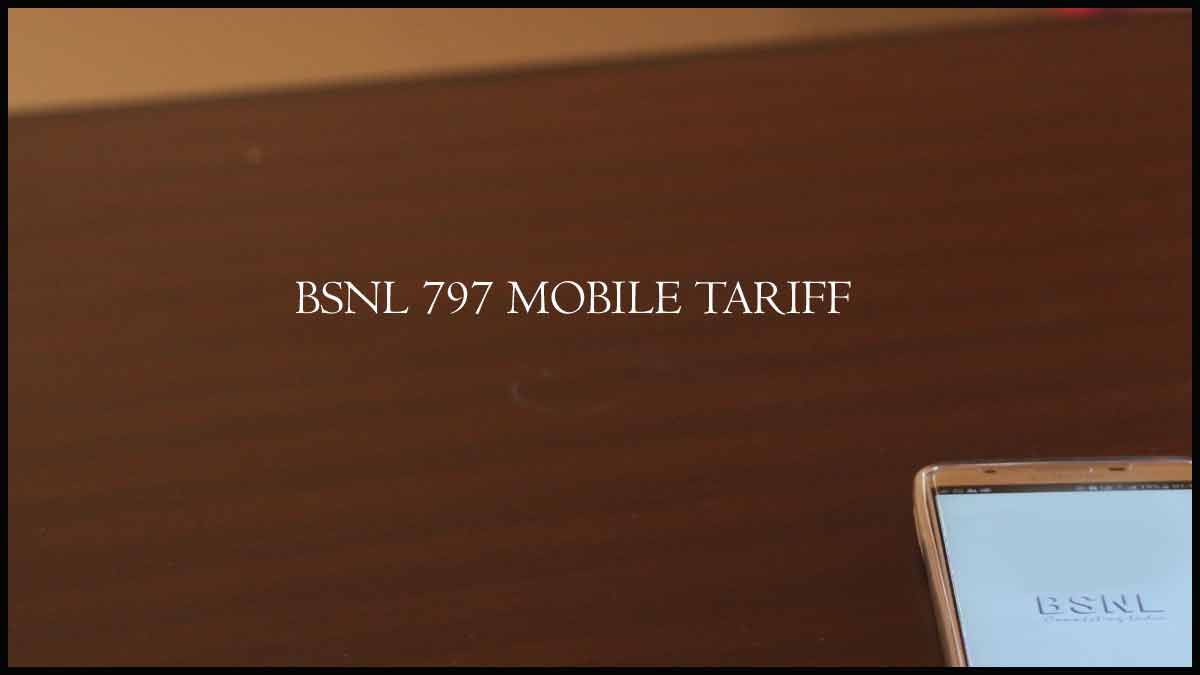 BSNL 797 Plan Recharge Details
| Particulars | Special Annual Plan Tariff |
| --- | --- |
| Plan Voucher MRP | Rs.797 |
| Freebies for first 60 days | U/L Voice (local/STD) (on-net/off-net) in Home LSA and National Roaming incl. Mumbai & Delhi + U/L data with speed reduced to 80 kbps after 2 GB data /day + free 100 SMS/day |
| Plan validity( in days) | 300 days |
| Applicable for | 2G & 3G & 4G network customers |
| Voice Call Charges after 60days | Rs./Min |
| Local Calls | 1 |
| STD Calls | 1.3 |
| ISD Call | ISD Calls Tariff (Same as for Landline ISD Call Tariff ), Visit the page |
| Video Call Charges for Local/ Roaming | Rs.2/Min for Outgoing |
| Local SMS | 0.8 |
| National SMS | 1.2 |
| International SMS | 5 |
| Delivery Report | Nil |
| National Roaming | |
| Local calls | 0.8 |
| STD calls | 1.15 |
| Incoming Call | 0 |
| Local SMS | 0.25 |
| National SMS | 0.38 |
| International SMS | 5 |
| Incoming SMS | Nil |
| Inter Circle Roaming with Vodafone as VLMN in Delhi | |
| a) The BSNL customer roaming in Delhi with M/s Vodafone as VLMN will be charged as per standard roaming rates (except for point no. (b) & (c) stated below). The rates of outgoing SMS and voice calls are as below: | |
| Particulars | Local Calls |
| Outgoing Voice Calls | Rs. 0.80 per min for Local and Rs. 1.15 for STD |
| SMS | Rs. 0.25 for Local and Rs.0.38 for STD |
| GPRS/Data | 0.25 p/10KB |
| b) The incoming voice call for BSNL customer roaming in Delhi with M/s Vodafone as VLMN will be charged at | Rs. 0.45/minute. |
| c) Any type of STV including data STVs will not be applicable for BSNL customer roaming in Delhi with M/s Vodafone as VLMN. | |
BSNL 797 Plan Voucher Tariff