Now apply BSNL VRS 2019 in ERP / ESS portal, Find the process how to apply BSNL Voluntary Retirement Scheme & indicative calculation of VRS benefits using online ERP system link sp05rpx1.erp.bsnl.co.in/irj/portal…
The interested BSNL employee may then continue to apply his option as per the instructions on the ERP portal, and the eligible employees are advised carefully to go through the provisions of the 'BSNL Voluntary Retirement Scheme 2019' before exercising their VRS 2019 option, and for any assistance, employees can contact the dedicated HelpDesk.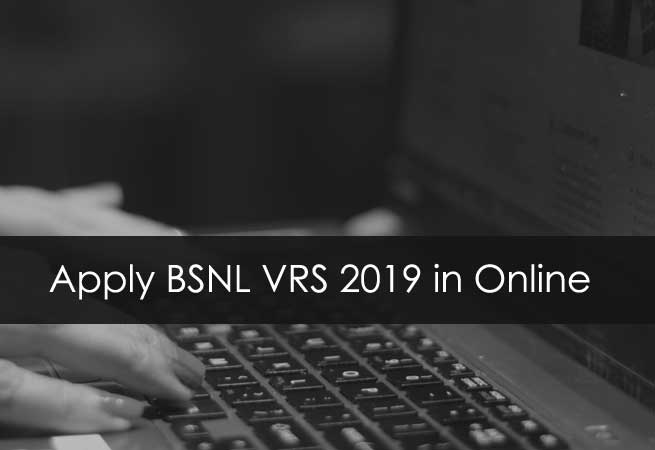 Important Dates to apply for BSNL VRS
| | |
| --- | --- |
| Date of Application Opens | 04-11-2019 |
| BSNL VRS 2019 Application Closes on | 03-12-2019 at 17:30 hours |
How to Apply for BSNL Voluntary Retirement Scheme 2019 in ERP Portal
Login to BSNL ERP / ESS Portal link http://sp05rpx1.erp.bsnl.co.in/irj/portal or at http://eportal.erp.bsnl.co.in/irj/portal
After successful login, a Tab named "VRS-2019" will be displayed on the homepage of ESS Portal
Click on VRS 2019

On entering the VRS-2019 page, only the eligible employees will be able to see the indicative calculation of the benefits of the scheme.

Immediately the shown calculation with an approximate estimate of the benefits as per the staff details available in the ERP system is shown.

Actual benefits may vary subject to verification of service particulars from service book etc.

Click Submit
If you (employee) not sure about to apply for BSNL VRS 2019 option, then you may click the button "I wish to DECIDER LATER" and exit from the ESS portal without any submission.
VRS 2019 option form filled eligible employees through BSNL ERP/ESS Portal can take the three printouts, sing all of them in blue ink and submit the signed copies to their respective controlling officer within 3 days of submitting the online option.
One copy of BSNL VRS 2019 application will have to be pasted in Service Book, second copy will be sent to the competent authority for acceptance of VRS and on third copy, the employee will take acknowledgement.
BSNL VRS 2019 Helpdesk
Dedicated Help-desk(s) will be available at Corporate Office level, Circle level and Business Area (BA) / SSA (Secondary Switching Area) level during the normal office hours for providing assistance to the employees for exercising options, however online options to apply BSNL VRS 2019 using ERP portal can be exercised round the clock.
Can we withdraw BSNL VRS 2019 application
Employees are allowed to withdraw option only once during the prescribed period from 04.11.2019 to 03.12.2019 for exercising BSNL VRS 2019 option.
Can we check the status and benefits again after submission of BSNL VRS application
The Employee can check the tentative benefits under the BSNL Voluntary Retirement Scheme 2019 at any time on the ERP / ESS portal and once the option is submitted, he may also check the status of his option after apply for VRS in BSNL ERP /ESS portal.
Find all the BSNL Pension Forms to be Submitted to Authority – Check Now