Now here you can find BSNL cinemaplus YuppTV scope which is one stop destination for digital entertainment needs with activation process step by step to enjoy live tv channels, movies and web series in 10+ languages…
BSNL has been transforming their features and services with the on going most popular trend in the market is the OTT service which means Over the Top Media streaming service packs that includes movies, TV shows, videos and more that makes entertainment from a single streaming service more interesting.
In order to pave its way into this market, BSNL has launched a new streaming service with partner YuppTV in the name of YuppTV Scope which is now one of the most growing and trending entertainment streaming pack services with more than 4 different streaming services content including YuppTV, Zee5, Sony Liv and Voot which allows 300+ live channels.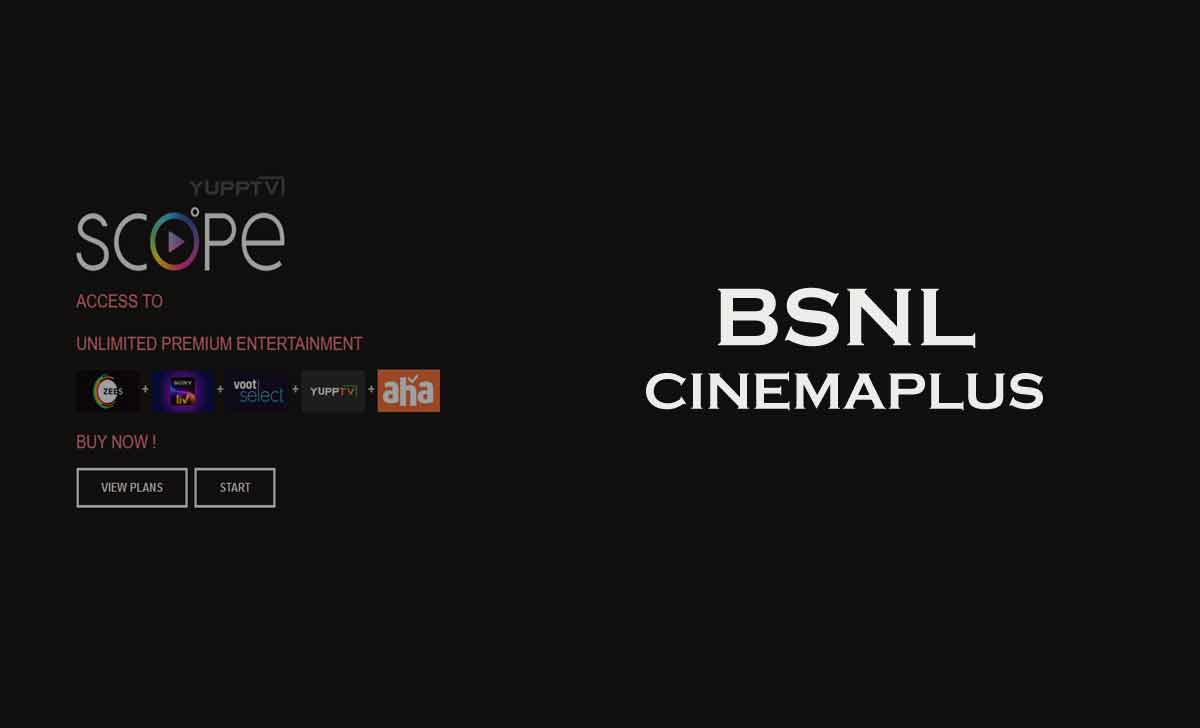 It means you will not have to buy different packs and services for all these 4 digital streaming platforms anymore, if you just subscribe for BSNL broadband plans, then you are allowed to subscribe for BSNL Cinema Plus YuppTV Scope services allowed for internet users with the following packs
BSNL YuppTV Scope Subscription Prices (BSNL OTT Plans)
As you already know no streaming service is free, but now, with BSNL Cinemaplus Scope you will get to watch movies, tv shows, webseries and more from 4 different streaming services then the price might be higher right.
In fact, the launch price for the first three months is only Rupees 129 which is truly an unbelievable cost but a true one, so if you want to subscribe to their service then you can follow our below instructions that will help you with the process.
BSNL Cinemaplus Activation
Open the BSNL YuppTV Scope link from https://cinemaplus.bsnl.in/liveyuppott/#plans
Under plans, click on the Buy Now button and it will give you a popup to complete the subscription process
Enter Phone number with STD code excluding 0
Select the Circle from dropdown
Provide Email ID
Fill your First Name, Last Name, and Code shown
Click Submit button
OTP will be sent to your registered mobile number
Enter received One Time Password
Click Submit to complete your subscription
BSNL YuppTV Scope App Features
Well at the end of the day, you might find a lot of different streaming services which might make you question why should someone choose this service over others and that is why we have listed some of the reasons that features.
Live TV Streaming: More than 300 plus live tv channel streaming option is available
Stream TV Shows & Movies: Choose and stream from 8000 plus TV shows & movies from 10 plus different languages
Stream from top services: This streaming service has aggregated TV shows, Movies and more from 4 top streaming services such as YuppTV, Zee5, Sony Live & Voot.
Multiple Device Streaming: Stream through multiple device without any issues
Stream from anywhere: You can stream from desktop/ browser, TV, Smartphone with Android or iOS app as well.
Customer Care: You can write to [email protected] for more service or to resolve any issues related BSNL Cinemaplus YuppTV services.