BSNL dispensed the Blackout days for the Calendar year 2023 under GSM mobile services as mentioned earlier….
Let's have a look about what is Black out days for mobile users, Government Telecom Company Bharat Sanchar Nigam Limited has announced the BSNL Blackout days for the calendar year 2023 as per the TRAI reporting requirement which applicable to all the customers of BSNL prepaid mobile.
In telecom, Blackout means, the available Free or Concessional/ Discounted Voice Calls / SMS with or without STVs/ Rate cutters offered by the operator under any plan/package are not available to mobile customers in these announced days, Coming to the situation, every operator declares BlackOut days as per TRAI reporting and the Black Out days shall not exceed a maximum of five (5) days in a calendar year.
So Indian premiere brand followed the policy, and enabled BSNL mobile plan consumer to make an informed choice about the prepaid mobile tariff about these days through SMS. The Blackout day information is not earlier than seventy-two hours and not later than twenty-four hours before the commencement of that day, occasion, date and the rate applicable for calls and SMS on such BSNL BlackOut days.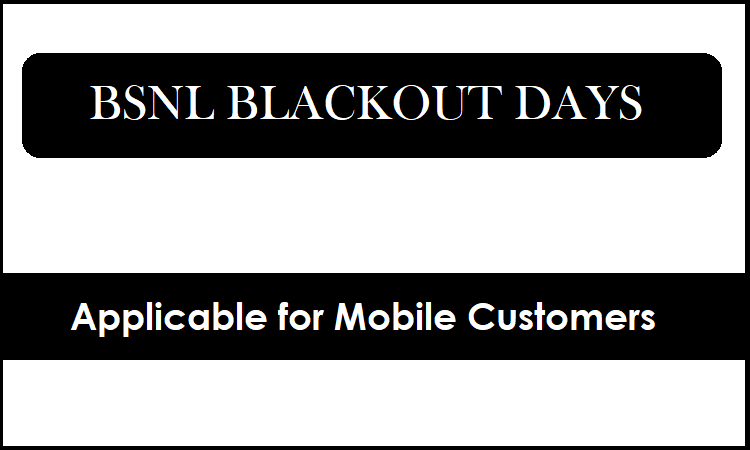 In keeping with guidelines issued by TRAI regarding Black Out Days, BSNL proposed the following five days as BlackOut Days. Accordingly, and brought to the notice of esteemed customers, these BSNL Mobile blackout days also adjusted in some BSNL circles. It is according to with their local festivals, which will inform mobile customers in earlier.
BSNL Blackout Days 2023
| SI.No | Blackout Day |
| --- | --- |
| 1 | New Year Day (1st January 2023) |
| 2 | Holi |
| 3 | Pre-Diwali Day |
| 4 | Diwali |
| 5 | New Year Eve (31st December 2023) |
This year in 2023, BSNL dispensing the blackout days for the complete calendar year. All consumers of mobile services will continue to get all free SMS offers on unlimited plans and special tariff vouchers. While surfing or talking to their near and dear ones on New Year eve and New Year 2023 as per subscribed BSNL Offers.
For more details, please visit bsnl.co.in.
Whether the Blackout days applicable for prepaid and postpaid services?

Prepaid mobile services are only applicable for Blackout days.

Can free usage of prepaid FRC plans is allowed on blackout days?

Yes, even on blackout days, the free usage allowed with FRC plans are available, but the freebies offered with STV are not allowed.

In 2021, the total 5 blackout days or removed or not?

Yes, the said 5 days are completely removed from the list of blackout days, and not applicable for anyone in any BSNL circle.