In INDIA, Aadhar is now being populated as a sole identification card for every citizen and thus the government has been introducing measures to have different government ID proofs to be linked with PAN.
The linking of PAN (Permanent Account Number) with Aadhaar (Unique Identification Number) was mandatory for Indian residents. One should also view that their Name and Date of birth in PAN card and Aadhar Card must be matching, else the link of Aadhaar will not be successful and will deploy your update.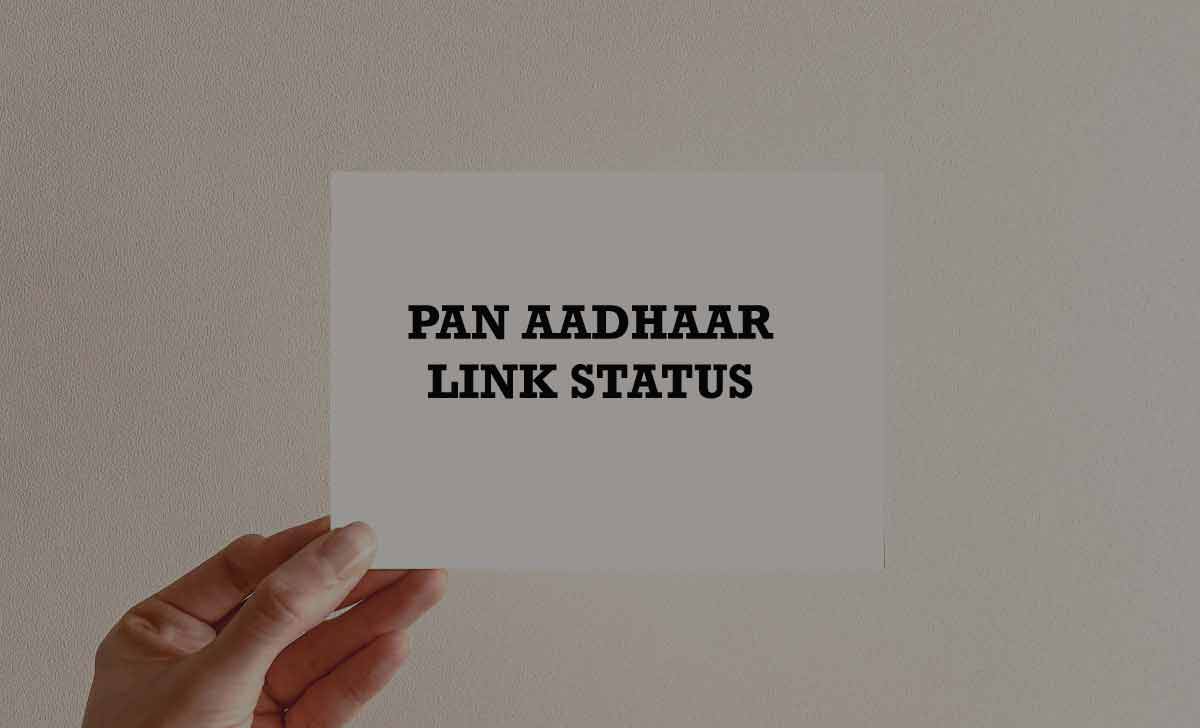 In this article, we will bring you a few methods through which you can know the status of your PAN and Aadhar card link if you have done it online or by visiting any service center.
PAN Aadhar Link Status
Here we bring you an easy process to check the PAN Aadhar link status online. To follow these steps, one should have already linked with their PAN and Aadhar card.
How to Check PAN Aadhaar Link Status Online
Visit the Income Tax e-Filing website https://www.incometax.gov.in/iec/foportal/
Click Link Aadhaar Status
Enter PAN Number and Aaddhar Number
Click View Aadhaar Link Status
You can see the link Aadhaar with your PAN if it's not already linked.
Status will be shown, if your PAN and Aadhaar are linked
How to Check PAN Aadhaar through SMS
If you have linked your Aadhar and PAN, then you can use below SMS format form your registered Aadhar & PAN card mobile number to get status in message.
UIDPAN <12-digit Aadhaar number> <10-digit PAN> to 567678
A confirmation message with the status will be sent over message.
How to Check PAN Aadhaar Status through SMS Using Helpline Centre Number
If you have updated your Aadhar Card and PAN card and wanted to check the status then you can call the Income Tax helpline at 18001801961 or 1961.
These are toll-free numbers and you can get an instant update by providing your details over call.
Is there any deadline for linking PAN and Aadhaar?
The government has set several deadlines in the past for linking PAN cards with Aadhaar cards. The current deadline can be checked by visiting the income tax department's official website or by calling the helpline center.
What happens if my PAN is not linked to Aadhaar?
As per government guidelines, anyone who fails to link his PAN with Aadhaar card within the stipulated time, respective PAN card might become inoperative. These would bring difficulties in certain financial transactions and dealings done through banks or Internet banking.
Can I link multiple PAN cards to one Aadhaar number?
No, one Aadhaar number can only be linked to one PAN card. Linking multiple PAN cards to the same Aadhaar is not permitted, as well one has to keep only one card with the name and dissolve other cards.