Through the Google Account settings, users may see and control their Google Activity, and it's important to note that you can use automatic data deletion settings for your Google my activity to routinely delete my activity information after a predetermined amount of time.
How to Delete My Activity
You can take the following actions to remove your Google activity, if you want to delete my activity that you have performed though you're Google.
Firstly Visit the My Activity page at myactivity.google.com on the Google website, and if requested, sign in using your Google account.
When you land on the My Activity page, a rundown of your most recent activity across multiple Google services will be visible.
To remove specific items, click the three dots (more choices) next to the item you wish to delete.
Select "Delete" or "Delete activity by" to eliminate particular items or activities within a certain time frame.
To delete all of your activity, select "Delete activity by" from the sidebar after clicking the menu icon (three horizontal lines) in the top-left corner of the page.
You can select a period range for which you wish to erase your activity on the "Delete activity by" page. If you simply want to erase activity from particular services, you can also choose specific Google goods or services.
Click "Delete" to delete your activity in accordance with the settings you've chosen after making your selections.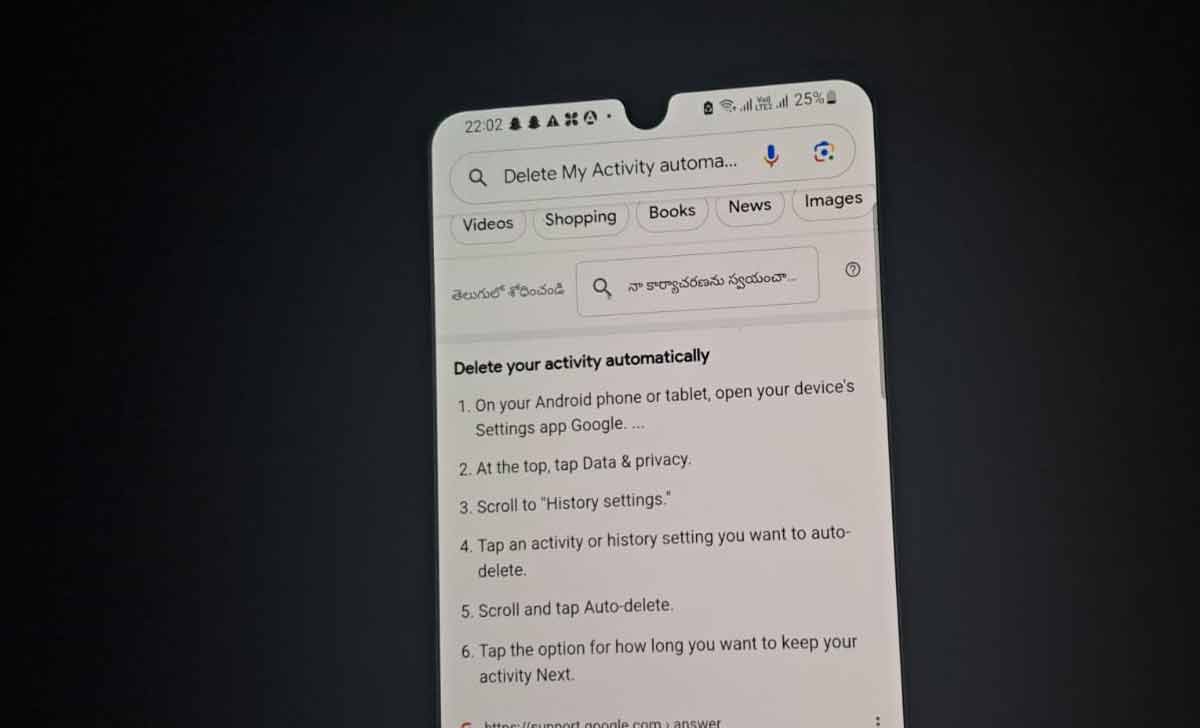 Delete My Activity Automatically
Instead Google Provides automatic Delete option for their Services utilized and here you know about about how to delete all searches my activity with the following actions to automatically remove your Google activity in a quick way without many efforts
Launch a web browser and navigate to https://myaccount.google.com to access your Google Account settings.
If you aren't already logged in, sign in using your Google account information.
Select "Data & personalization" from the navigation menu.
Locate the "Activity and timeline" area by scrolling down and selecting "Manage your activity controls."
Toggle the option to turn it off under the "Web & App Activity" section. This will stop any further action from being recorded.
After that, select "Choose how long to keep" under the "Delete your activity" section by scrolling down.
Choose the preferred auto-delete setting. There are three options available: "Keep until I manually delete," "Keep for 18 months," and "Keep for 3 months." Your activity will be automatically deleted if you choose one of these alternatives after the predetermined amount of time.
After choosing the auto-delete option, click "Next" and then "Confirm" in the pop-up window to confirm your decision.
How to Turn off My Activity History on Google
I am sure you might not want to just delete the option but sometimes just want to turn off My Activity on Google and below are the steps to do it.
Go to https://myaccount.google.com/
Sign in to your Google Account
Click Data & personalization
Scroll to Activity controls
Turn off activities using the toggle switches
Confirm your choice to turn of the My Activity on Google
Note: Disabling activity limits personalization and data may still be retained
Is it possible to remove my Google activity from a mobile device
On mobile devices, you can remove your Google activity. Depending on the device and operating system you are using, the procedure could change slightly.
In order to remove your activity, you may typically find the My Activity or Google Account settings in the Google app or device settings.
Also Check>>> Gmail Hacked – Fix Compromised Google Account in 6 Ways
Is there anything else I can do besides Google history delete all my Google activity
You can take further precautions to secure your data if you are concerned about privacy, such as modifying your privacy settings, using private browsing modes, or using different search engines and services that put user privacy first.
Can delete my activity be retrieved?
No, your Google activity cannot be recovered after it has been deleted. Therefore, before confirming the deletion, be sure to carefully check your choice.
How frequently should I do google history delete all my activity
Depending on your preferences, you may delete your Google activity more frequently.
While some users may want to set automatic deletion to assure regular data removal, others may prefer to occasionally remove their activities. A deletion schedule that fits your privacy requirements can be established.